The customer database has two sides: one is individual and detailed information or track records of single customers, and the other is aggregated and consolidated data of groups of or all the customers. SENRI will approach from both ways with multiple functions to enhance customer relationships with our clients. In this article, we highlight the 5 major functionalities of customer management.
1.Monitor detailed customer activities of especially top customers
Pareto principle is one of the most popular principles of sales and marketing in modern economies. 20% of customers account for 80% of the company's total sales. As a result, change in those top customers' sales will dramatically affect the company's success, thus, sales teams have to watch their activities more than they do for other customers.
SENRI will watch and list top customers and managers can see orders and visit activities. It is actually common that some of the top customers are unlikely to visit frequently although sales per visit is very high. SENRI will help managers to know such situations.
2.Grasps your market coverage and distribution of sales
Geographical indication is one of the SENRI's strengths. SENRI will plot customers by location and heat map by customer's sales. It will help managers to find weaknesses and strengths in their market penetration.
3.Manage primary and secondary customers
In the FMCG industry, customers often have layers of primary and secondary. Also, in the pharmaceutical industry, companies want to manage both hospital and doctors information.
SENRI have both ways of analysing sales:
View sales for each secondary sales
View sales grouped by primary customers
4.Customer approval flow and customers custom field
Each company requires their own style of customer database. SENRI enables each company to have their own custom field to customers as many as they want.
Managers can set their own required field. In addition, Customer approval flow can be applied when new customers are registered and managers need to approve in order to record future activity by sales staff.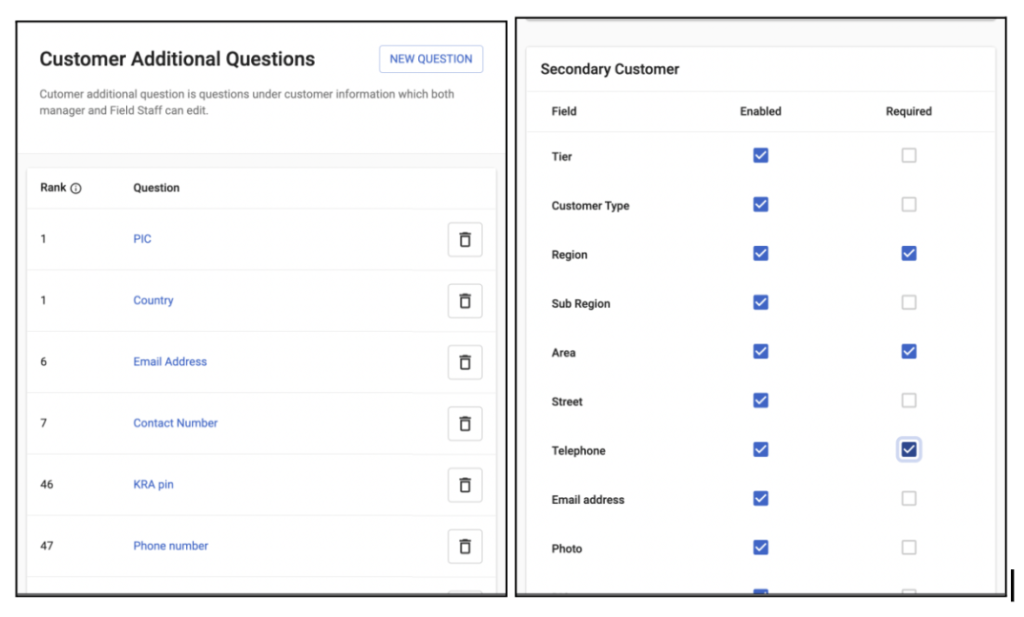 5.Send SMS and email reminders
Communication with customers should not only stick to sales man's but also continuous touch points even when staff are not with customers.
SENRI has a number of options for SMS and emails. For example, if payment is about to be due, SMS reminders will be automatically sent to customers, or when orders are recorded, email will be sent automatically as a confirmation.
*Please note that some countries have limitations on SMS functions due to government regulation.